Hello Folks,

How was your Bank Holiday weekend?

This Saturday & Sunday, I was lucky enough to exhibit as part of the Dales Festival of Art held in Leyburn along side the annual Food and Drink Festival.
The atmosphere was fantastic! Lots of people milling around town, and although a little windy, I guess the weather wasn't too bad.

Many Artisans were in the Artists Marquee which was in the middle of town, an open area allowing people to stroll right through... This is where I was. I loved being in the Marquee - right in the action, there seemed to be constant crowds of people. Plus we got a great view of the live performances on Saturday.

I'm really hoping the Art Festival will be back next year. So if you didn't get chance to come, fingers crossed you can next time....

......Oh, and here's a quick snap of my stall (excuse the boxes - only just finished setting up). I took a huge selection of items! Including lots of new pieces, which all seemed popular *phew*.
My Button Jewellery was the most popular product, nearly selling out of my Button Earrings! *Note to self, must make more* - Also my new Charcoal work went down well.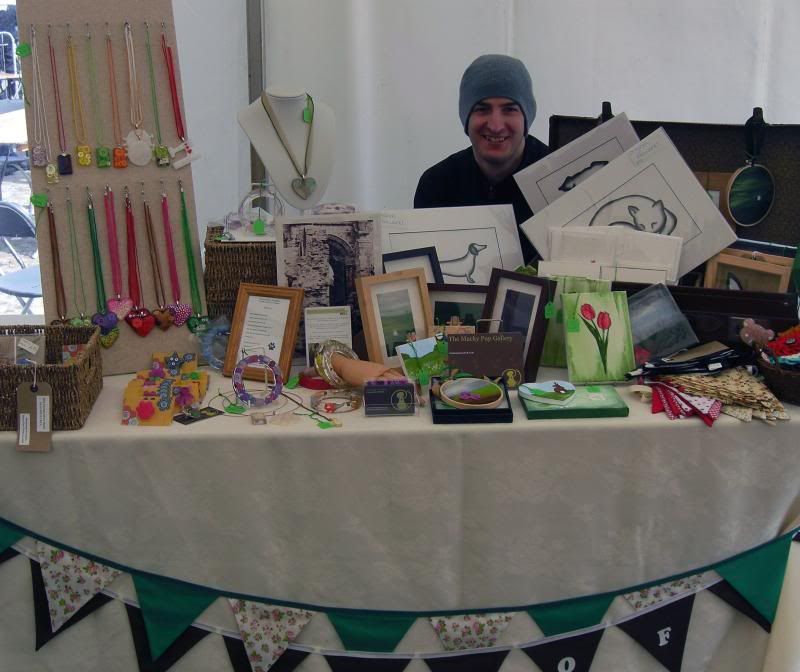 This is Matt, my very helpful partner. He did a fantastic job of helping me all weekend. What a Star... don't tell him that though!

Did you visit The Dales Festival Of Art? If so I'd love to hear what you thought, did you buy anything fantastic?

Right, I think it is time for a well earned rest. Taxi.

Until next time..


The Mucky Pup
#Woof